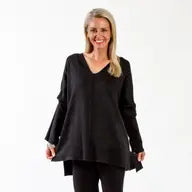 High Quality Black Comfy Relaxed Blair Sweater
Regular price
$170.00 USD
Regular price
Sale price
$170.00 USD
Experience luxury and style with the Comfy Black Blair Sweater. Crafted from a relaxed merino wool and acrylic blend, this luxurious v-neck sweater is designed to keep you comfortable and looking your best! Make a statement today with the Comfy Blair Sweater.
Soft elegant V-neck sweater
Indulge yourself in the comfort of the Comfy Relaxed Blair Sweater, crafted from a soft and flowing draped fabric for an elegant and luxurious feel. Enjoy its soothing and gentle texture as it wraps you in a cocoon of comfort, perfect for lounging around or adding a touch of refinement to your next outing.
Details
• Made in Ukraine • Fabric: 65% Merino Wool 35% Acrylic