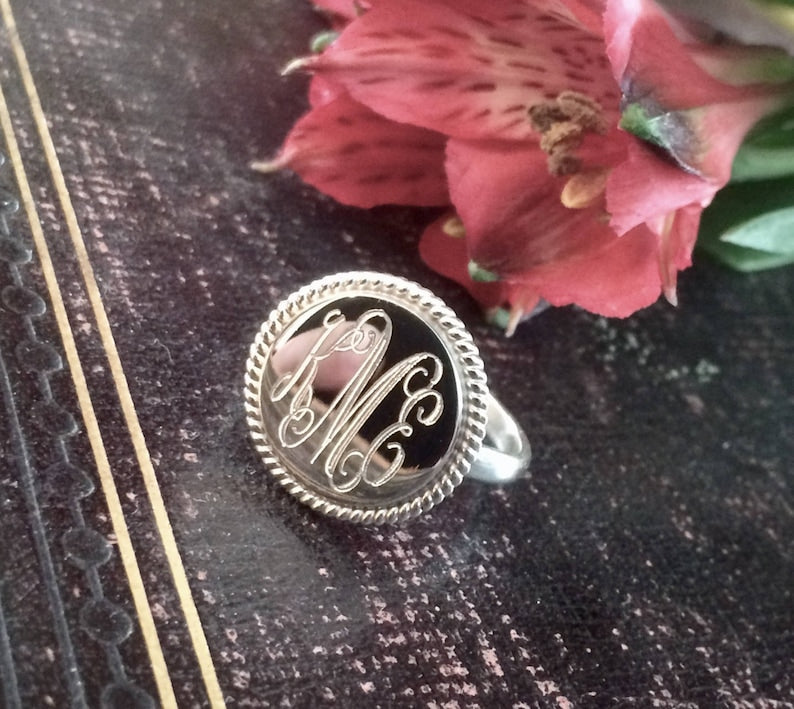 Sterling Silver Monogrammed Ring Round with Rope Edge
Regular price
Sale price
$80.00 USD
This Sterling Silver Monogrammed Ring boasts a timeless style with its classic round shape and rope edge accents. An exquisite and meaningful gift to commemorate special moments, celebrate a milestone, or simply show you care. Crafted from high-quality silver, this ring is a lasting reminder of your cherished bond.
This ring is solid 925 Sterling Silver. And it is available in 15 and 18 mm sizes. The photos on this listing are the 18MM. Let me know if you have any questions at all.

♦️IMPORTANT INSTRUCTIONS♦️

-Please provide me initials in the order :
FIRST-LAST-MIDDLE(MAIDEN).

-Initials will be engraved in the order provided.


Beautiful Pure Sterling Silver 925 (not plated) Monogrammed ring.

Approx engravable area size is available 15 or 18 mm. Please let me know if you have any questions at all........


These rings are pure sterling 925. When you aren't wearing your Sterling silver you should always store in an airtight bag or jewelry box. A ziplock bag sealed is the best I think. Leave your Sterling silver rings on when you wash your hands to keep it clean. That helps too. Heat and humidity cause tarnishing so if you spend a day outside in the heat it helps to clean your silver with soap and water .