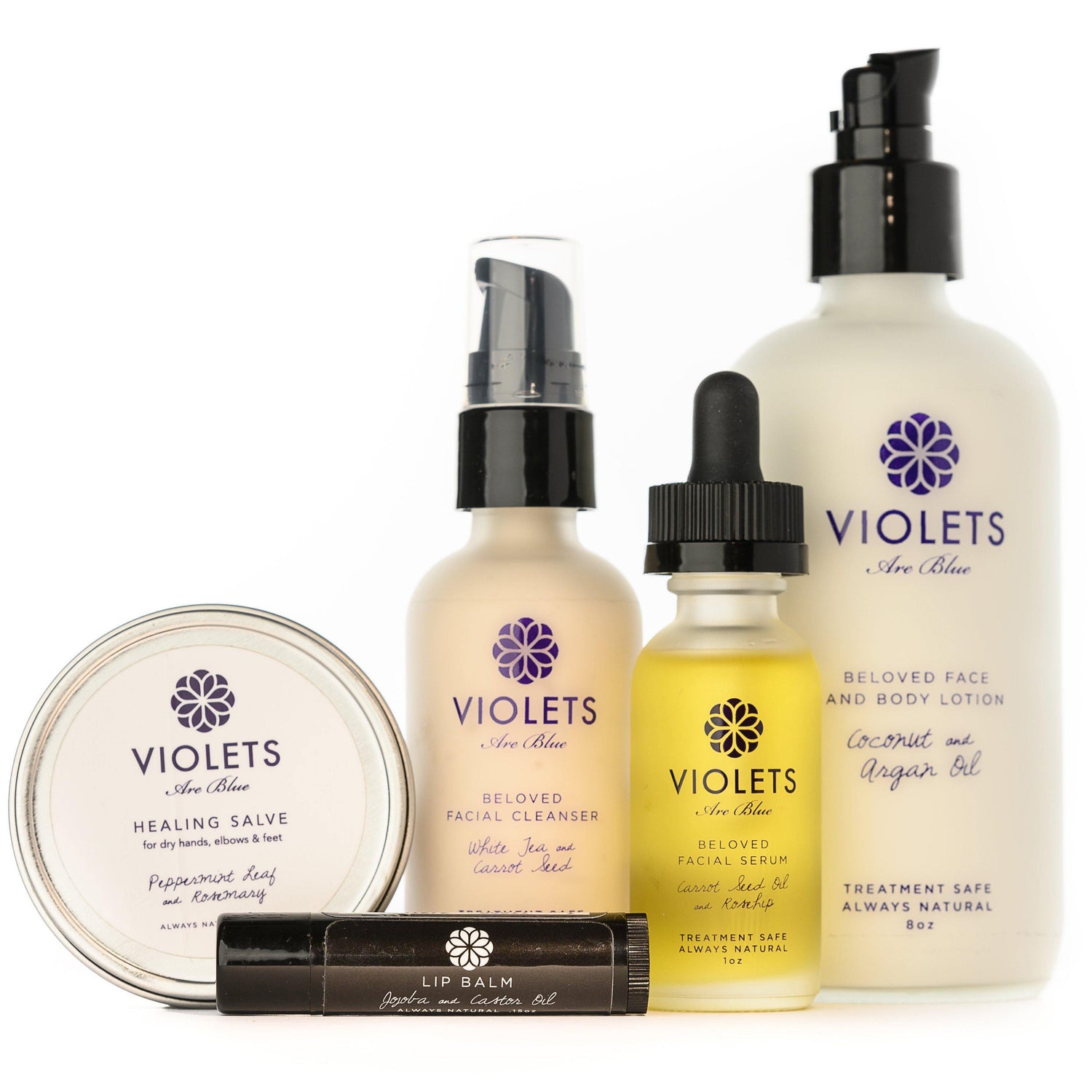 All natural essential BeLoved skincare gift set ideal for cancer patients
Regular price
Sale price
$150.00
Unit price
per
This is the perfect set for treated skin! This all natural essential set is the ideal gift for anyone going through cancer treatment.
BeLoved Skincare For Sensitive Skin
It has everything you need to keep your skin as healthy as it was prior to treatment.  All carefully crafted formulas that target issues that arise when your skin has been affected by either chemotherapy or radiation. We focus on nourishing oils such as Evening Primrose, Rosehip Seed, Argan, Sweet Almond and Castor, just to name a few. Our essential oils are perfectly blended to provide benefit without too much scent.
Calming Lavender Oil- 
The main essential oil, Lavender, is known to be the most calming oil for the nervous system and has been shown to have anti-inflammatory properties.  This set will last you through your treatment cycle. Plus, for every package you purchase we make a gift package donation to a woman going through treatment at Mount Sinai's Dubin Breast Center in NYC.
Perfect Gift For A Friend Going Through Cancer Treatments
Do you have a friend or loved one diagnosed with Breast Cancer, or any type of cancer, and you're not sure what to do for them? This package is the perfect gift to let them know you are thinking of them and of their health. BeLoved products can be purchased in a gift set or individually, and arrive packaged in attractive eco-friendly materials. 
BELOVED FACE & BODY LOTION
Apply liberally to face and skin as needed. Best if used after showering or after our Facial Wash.
BELOVED FACIAL CLEANSER
Apply 3-4 drops to face in a circular motion. Rinse well with warm water. For best results, follow up with our Facial Serum. Safe enough to use as an eye makeup remover.
BELOVED FACIAL SERUM
Apply 2-3 drops to face and neck area in a circular motion. Do not rinse. For best results, use after our Facial Cleanser.
BELOVED FOOT SALVE
Massage into feet as needed (you may also apply to other dry areas such as elbows and knees). For overnight relief, slip a pair of socks on over salve application.
BELOVED LIP BALM
Directly apply to lips as often as needed. The balm may be layered over lipstick or other lip colorings, or used by itself to leave a light sheen.
Recently viewed products
Continue where you left off